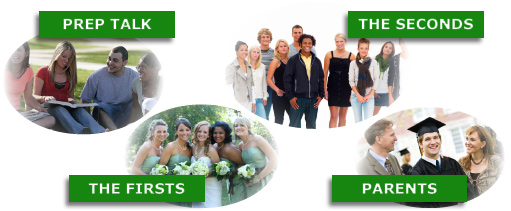 College Programs
Speaking


Prep Talk: 5 Essential Steps to Graduate into The Real World
When college is over, college grads return home to readjust to living at home with their parents and family, making adult decisions as well as new friends. This interactive presentation focuses on students' life after graduation and is designed to give them the information on adjusting to life after college; navigating through a difficult job search; how to get an apartment, making friends outside of college; and more.
Students will learn strategies to:
Deal with moving back home

Handle the stress of searching for a job

Manage their finances

Get their first apartment

Keep their mind focused on their goals


Prep Talk: Success Strategies to Jump Start Your Career
With the job market the toughest it's been in years, job seekers who are standing out from the unemployed crowd are the ones securing the jobs they want. In this talk, ChaChanna will give your soon-to-be grads strategies to networking, making connections and meeting prospective employers face-to-face, giving them a better chance of getting the job they want.
Students will learn:
The art of networking

New ways to meet prospective employers

Keys to keeping optimistic during a tough job search

Prep Talk: Social Media Networking –  Do's, Don'ts, and Directions
In this talk, ChaChanna explains and guides students on how to use Facebook, LinkedIn, and Twitter to getting started in their careers so they can understand and take advantage of the old saying, "It's not what you know but who knows you."
Students will be taught:
The difference among the three social networks

How to use their status

How to find and engage with leaders in their industry
Workshops

Prep Talk: Countdown to Graduation
This workshop is designed for the college senior who is about to graduate and enter the real world. In this hands-on, half-day workshop, students will prepare for the day after graduation and beyond. Working one-on-one and in groups, students will be guided through the first steps of transitioning into the real world. At the end of this workshop, students will have their own personal, step-by-step, success action blueprint for their life after college.

By the end of the program student will:
Prepare for graduation

Learn different ways to go about the job search

Apply Facebook/Linkedin/Twitter in their career strategy

Monitor and manage their finances

Prep Talk: Building Your Brand Online
No longer are companies the only ones building brands. With the advent of Facebook, blogs, Twitter and other social networks, everything you place on the Internet is now part of your brand. In this hands-on, half-day workshop, students are taught how to use social media but are able to immediately apply what they've learned. By the end of the workshop, students will have already started to build, monitor, and expand their online brand.


Start monitoring and cleaning up their online footprint

Set up a strategy for connecting with people that can help them

Build a strong social network

Dos and Don'ts about using social media
Coaching at College
Have ChaChanna on your campus to coach your students on graduating into the real world. Students would get a 30-minute coaching session to help them get clarity personal and professional development, relationships, self-care, goals and more. Contact us at coaching@twentity.com for more information.