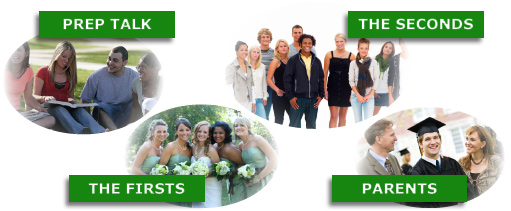 Speaking
Engaging, Motivating, Energizing
ChaChanna engages audiences with her interactive, humorous, and straightforward style of presenting. Her talks are packed with real world advice and delivered in a fun, entertaining conversation format, leaving your audience with proven strategies to graduate into the real world.
ChaChanna's presentation draws from her personal knowledge and experience. She has inspired many young grads at Alberta Magnus College, Hunter College, Iona College, Sikorsky Aircraft, and many other colleges and companies.
Let ChaChanna give your audience the tools they need to make it big in the real world.
To schedule ChaChanna to speak at your next event contact us at speaking@twentity.com.
College Speaking
Sometimes they need to hear about the real world from someone other than a professor. We offer keynotes, workshops, half day seminars and can organize panel discussions.
Prep Talk: 5 Essential Steps to Graduate into The Real World
When college is over, college grads return home to readjust to living at home with their parents and family, making adult decisions as well as new friends. This interactive presentation focuses on students' life after graduation and is designed to give them the information on adjusting to life after college; navigating through a difficult job search; how to get an apartment, making friends outside of college; and more.
Students will learn strategies to:
Deal with moving back home

Handle the stress of searching for a job

Manage their finances

Get their first apartment

Keep their mind focused on their goals
Prep Talk: Success Strategies to Jump Start Your Career
With the job market the toughest it's been in years, job seekers who are standing out from the unemployed crowd are the ones securing the jobs they want. In this talk, ChaChanna will give your soon-to-be grads strategies to networking, making connections and meeting prospective employers face-to-face, giving them a better chance of getting the job they want.
Students will learn:
The art of networking

New ways to meet prospective employers

Keys to keeping optimistic during a tough job search
Prep Talk: Social Media Networking –  Do's, Don'ts, and Directions
In this talk, ChaChanna explains and guides students on how to use Facebook, LinkedIn, and Twitter to getting started in their careers so they can understand and take advantage of the old saying, "It's not what you know but who knows you."
Students will be taught:
The difference among the three social networks

How to use their status

How to find and engage with leaders in their industry
College Workshops
Prep Talk:

Countdown to Graduation
This workshop is designed for the college senior who is about to graduate and enter the real world. In this hands-on workshop, students will prepare for the day after graduation and beyond. Working one-on-one and in groups, students will be guided through the first steps of transitioning into the real world. At the end of this workshop, students will have their own personal, step-by-step, success action blueprint for their life after college.

By the end of the program student will:
Prepare for graduation

Learn different ways to go about the job search

Apply Facebook/Linkedin/Twitter in their career strategy

Monitor and manage their finances
Prep Talk:

Building Your Brand Online
No longer are companies the only ones building brands. With the advent of Facebook, blogs, Twitter and other social networks, everything you place on the Internet is now part of your brand. In this hands-on workshop, students are taught how to use social media but are able to immediately apply what they've learned. By the end of the workshop, students will have already started to build, monitor, and expand their online brand.

Students will:
Start monitoring and cleaning up their online footprint

Set up a strategy for connecting with people that can help them

Build a strong social network

Dos and Don'ts about using social media
Corporate Coaching Workshops
We customize workshops designed specifically for companies that want to retain top talent right out of college by making them comfortable in their transition from college life, so they stay focused on the job and do the best job for you. We offer keynotes, workshops, half day seminars and can organize panel discussions.
Parents: Let Me Introduce You to Your New Grad
Your college grad is about to come home and you are probably expecting them to be the same person you knew when they left four years ago. They are not. This talk will help you understand your grad and how to adjust and help them along with their transition into the real world.
What is your new grad they thinking and feeling when they return home
How to keep the communication lines open
How to help without nagging
This is ideal for parents who have, or are going to have, their college grad home soon.
Past Presentations
Albertus Magnus
Community Capitol Resource
Connecticut College
Eastern Connecticut State University
Hunter College
Iona College
Lincoln College (formerly Briarwood College)
Moving Closer to My Dreams Conference
New York Chapter of INROADS
Pace University, Pleasantville Campus
Sikorsky Aircraft Corporation
The College of New Rochelle
Westchester Community College
What People Are Saying…
"Our students really enjoyed her talk.  They stated that she gave them so much information about life after college that it should be a mandatory program for seniors so that everyone could benefit from it.  Thank you for everything!"
– Erin Morrell, Director of Campus Activities, Albertus Magnus College
"Your presentation was informative and personal. I felt like I could relate my personal financial issues to the topics you brought up in your discussion. Your presentation was engaging and you did a good job of not turning the seminar into a lecture which kept the participants attentive. Thanks again for your help and we will definitely be in touch about other events."
– Ikechi Okoronkwo, President, Kappa Zeta Chapter, Alpha Phi Alpha Fraternity
"Ms. Simpson is a fabulous presenter! Energetic, attentive and knowledgeable!"
– Nadia Maria Matthie, Secretary, Iona College Multi-Cultural Alumni Chapter
"ChaChanna Simpson has the integrity and motivation to inspire millions of young people coming right out of college, I have been impressed with her vigor, tenacity, dedication and commitment to helping young people gain focus and knowledge for the next step in their lives…"true adulthood". Her methods are proven and tried, and her depth of knowledge can only come from one who has seen, lived, and survived it. I strongly recommend her guidance and counsel to any young person who is wondering what do next after college."
– Daniella Raquel Jones, Zeta Phi Beta Sorority, Inc. Gamma Xi Zeta Chapter